Look here to find information on current projects happening in our community to enhance your water service.
CR 1825 Pipeline Construction Project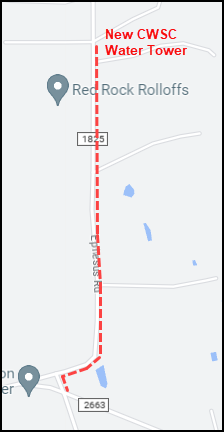 What is happening?
Installation of approximately 4,600 feet of 10" PVC water main in replacement of an existing 3" PVC water main. This work will include installation of a hydrant, control valves, relocation of customer taps, and connection of the new pipe to existing facilities on FM 2663. Work will be completed by Duplichain Contractors, their logo is below for reference. Our engineer on this project is Craig Webb with Cross-Tex Engineers, Inc.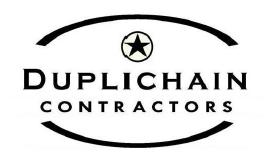 When is this happening?
Construction will begin on or around July 5, 2023 and is expected to be completed within 90 days. The working hours are approximately 7:00 am to 6:00 pm, Monday through Friday.
Who will this affect?
Residents of CR 1825 between the new Consolidated water tower and FM 2663 may be affected by construction. Excavation activities will take place in the existing pipeline easement on the east side of CR 1825 and CR 1805.
Construction is planned in such a way to minimize interruptions in water service. Toward the end of this project, you may experience a brief interruption while we disconnect your meter from the old main and move it to the new one. If you experience an outage at any time, report it to 936-544-2986. For your safety, please do not enter the immediate construction area.
Consolidated is working closely with our contractor to take all appropriate steps to limit disturbance to the surrounding areas during this project. Our goal is superior workplace safety and thoughtful consideration of your time and personal property.
What should I expect?
Construction crews with backhoes, excavators and bulldozers will be digging along the pipeline on the east side of the road. The roads should remain open to traffic during this period but traffic may be restricted and access to driveways may be limited for short durations of time. Please expect an increased level of noise during daylight hours over the construction period. If you have any questions or concerns about the construction activities for this project, please call The Consolidated Water Supply Corporation at 936-544-2986.
Why is this work being done?
Our goal is to consistently provide affordable, high-quality water. This project supports that goal by allowing us to efficiently utilize our excellent new well on CR 1825.